Towne Pointe Dental, has dental care services for your entire family's dental needs! With a gentle touch and kind, friendly staff we'll explain to the latest techniques available in cosmetic, general and implant dentistry to help you achieve a beautiful and healthy smile!
General Dentistry:
Dentistry involves the prevention, diagnosis and treatment of a wide variety of conditions, disorders and diseases affecting the teeth gums and maxillofacial (associated with the jaw and face) region of the body. The professional practitioners of dentistry are commonly referred to as dentist. General dentists provide services related to the general maintenance of oral hygiene and tooth health.
Ideally, dentistry is preventative. The American Dental Association (ADA) recommends that you visit your dentist regularly at least once every six months to ensure proper oral hygiene and functionality. Regular checkups and oral health maintenance prevent the development of serious dental problems that can require costly treatment. If you remain vigilant and visit your dentist regularly, you can enjoy exceptional dental health.
Cleanings & Digital X-rays:
Digital x-rays offer 70% less radiation with clear and immediate images available.
Professional Bleaching / Whitening:
We offer in-office, at-home, or combination of both routes of teeth whitening.
Teeth whitening is perhaps the most commonly recommended cosmetic dentistry procedure. Teeth are often stained from smoking, food, drink (coffee, tea, or red wine), or poor oral hygiene. Bleaching the teeth can enhance the appearance of your smile.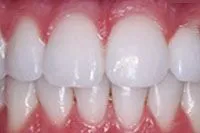 Before & After
White/Tooth Colored Fillings:
These fillings are now becoming the standard of care for back teeth. The material can appear very natural and is bonded into place.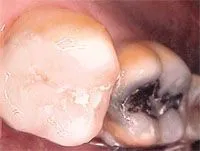 Before & After
Root Canal Treatments
Non-surgical gum therapy (Deep Cleaning) and chronic periodontal disease maintenacne
Porcelain Veneers:
A veneer is an ultra thin, cosmetic facing made for anterior (front) teeth, that can change the shape, color and size of the teeth. This procedure requires at least two visits along with a period of temporization before final placement of the restoration.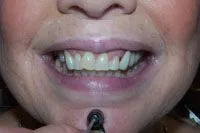 Before & After
Invisalign:
It's ideal for both adult and teens who want to correct the alignment of their teeth discretively. We offer short-term treatment to correct relapse of previous orthodontic treatment, minor crowding, and spacing issue. We also do long-term invisalign treatment to correct your bite, oral function, and improve your gum health and smile !
High Risk Cavity Management:
Rather then just "Drill and Fill" cavities we now have minimally invasive techniques to prevent and reverse small starting cavities. We council on dietary habits and prescribe antibacterial rinses and prescription strength Fluoride pastes. Our most recent addition is MI paste which is a mixture of Calcium and Phosphate which fortifies the tooth and helps reverse early cavities. It is applied after brushing and is dispensed by licensed dentists only. For high risk cavity patients, those who have dry mouth caused by medicines and other health issues, we have a written plan in a step by step approach to prevent and reverse the caries process.
Cosmetic Dentistry:
While traditional dentistry focuses on oral hygiene and preventing, diagnosing, and treating oral disease, cosmetic dentistry focuses on improving the appearance of a person's teeth, mouth, and smile.
Technological advancements in cosmetic dentistry have made it possible for dentists to address a wide range of challenges. Two of the latest trends aimed at creating a more attractive appearance are smile makeovers and full mouth reconstruction.
A smile makeover improves the appearance of the smile through one or more cosmetic dentistry procedures, such as dental veneers, dental implants, and teeth whitening.
Full mouth reconstruction may include treatment for functional problems with the bite, muscles, teeth, and bone structure as well as the use of additional cosmetic procedures. Full mouth reconstruction involves advanced restorative treatment designed to address severe wear of the teeth, pain, and other problems. Full mouth reconstruction frequently involves several dentists who focus on their specific areas of expertise in order to obtain the best outcome.
Metal Free Crowns & Bridges:
A crown or cap is a covering made of porcelain used to restore and protect a tooth that is: broken, has a very large filling or has had a root canal. A bridge replaces missing teeth. Teeth adjacent to the area of missing teeth are crowned and used as anchors to support the restorations.
Dental Implant:
Dental implants are artificial tooth root replacements that are used as a part of prosthetic (artificial replacement) dentistry in order to compensate for tooth loss. Often the result is not only an enhanced smile, but also a more youthful appearance, since missing teeth cause the face to collapse, making you look older. We are able to do most implant placement onsite. On occasion if we deem necessary we may refer you to an oral surgeon.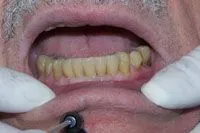 Before & After
Learn How Dental Implants May Be Right For you!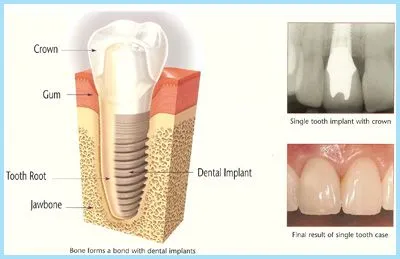 You can have beautiful teeth now! With a modern solution - dental implants. Over 2.5 million patients nationwide have been satisfied with the latest techniques for replacement teeth.
What Are Dental Implants?
They preserve facial structure
Help keep you looking younger
Allow you to eat what you ant, when you want
Provide a life-long solution
Improve the quality of life
Help save surrounding healthy teeth
Dental implants are artificial tooth root replacements that are used as a part of prosthetic (artificial replacement) dentistry in order to compensate for tooth loss. TownePointe Dental is ble to do most implant placement onsite. On occasion if we deem necessary we may refer you to an oral surgeon. Dental implants are designed to provide a foundation for replacement teeth that look, feel, and function like natural teeth.
The implants themselves are tiny titanium posts that are placed into the jawbone where teeth are missing. The bone bonds with the titanium, creating a strong foundation for artificial teeth. In addition, implants can help preserve facial structure, preventing the bone deterioration which occurs when teeth are missing.
Dental implants can improve the quality of your life, providing comfort and confidence to smile, laugh, speak and eat what you want, when you want.

Are They Right For You?
Schedule your appointment at TownePoint Dental for a free evaluation to see if dental implants are right for you! We will do a dental examination and health history evaluation and discuss your specific needs and considerations.
We will also discuss with you related fees and review your insurance plan for coverage. Coverage for implants is varied. Implants can also be financed to make them an even more affordable option.
What Does The Procedure Involve?
The diagram on the right shows a variety of dental implant solutions. In each case, a dental implant is surgically placed into the mouth and it will function as a substitute tooth root. Small posts are attached to the implant to provide stable anchors in the gums for replacement teeth.

Healing time following surgery varies from person to person, based on a variety of factors that include hardness of bone. Immediate post operative healing normally has only minimal discomfort. Total healing time for the implant to bond to the bone is normally 2-3 months. During this time you will be able to wear a temporary dental appliance if appropriate.

For the first two to three months following surgery, temporary dentures can be worn while the implants are gradually bonding to the jawbone. At this time your final tooth, bridgework or denture will be designed and placed once the implant has bonded to the jawbone.

The entire procedure from surgery to final restoration usually takes three to five months. Most patients do not experience any disruption in their daily life, and the final results are more than worth it. Over 2.5 million patients nationwide have been satisfied with this latest technique for replacement teeth.